Experiences with orders via https://www.tomtop.com/de/

If you have any questions, please send the mail directly to me:

by many measurements on self-built antennas I have some measuring instruments in use. Now there is one for about 50 euros from China / Hongkon to acquire. The price is ok and all measurements from 160 m to 6 m (60 MHz) are possible as well as the measurement of L and C, so everything you need in the fast.

Here is a picture of the Antenna Analyzer: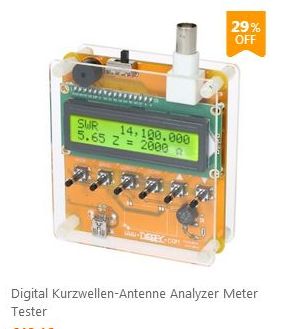 The device has arrived after about 14 out of China days. No description here and also not a description for use on the PC. The device here is called FT232 and is the same as the MR-100. Many English letters directly to the seller, problem display at PayPal had today on 16.05.2019 the final answer: I should the device insured to Honkgong send back to get my 50 euros back. Price for about 25-35 euros, with indications that it is a return,
to save the additional financial costs of taxes and customs.
My answer to this result was that with this PayPal / Seller recommendation I unwrapped the analyzer on the garbage and NEVER do anything with this seller want to do. Since defective analyzers are built together (the developer I will address synonymous) and if the analyzers have problems, you have almost the refund the purchase price of the device for the return - what a madness!

Here's the address the seller:

TOMTOP TECHNOLOGY LIMITED RM.1-4, 8 / F., KWAI WU INDUSTRIAL BUILDING NO. 85-89 TA CHUEN PING STREET, NT ATTN: MR TANG / MR LAI
KWAI CHUNG, XIANGGANG 999000 CN

So beware of orders through this seller!
73 DE DL7AHW

Arthur